Primary Crusher Selection
These machines represent the first stage of comminution and are usually of the jaw crusher, gyratory crusher or fixed blow-bar impactor type. Traditionally, these crushers are fed directly with quarried rock by rear dump trucks or indirectly by a grizzly type feeder. The maximum lump size varies but may be as great as 1 or 2 metres.
More recently the high cost of dump-truck haulage has been an incentive to develop in-pit crushing systems. In this system the primary crusher (fixed or mounted in a fully mobile or semi-mobile frame) is located within the quarry.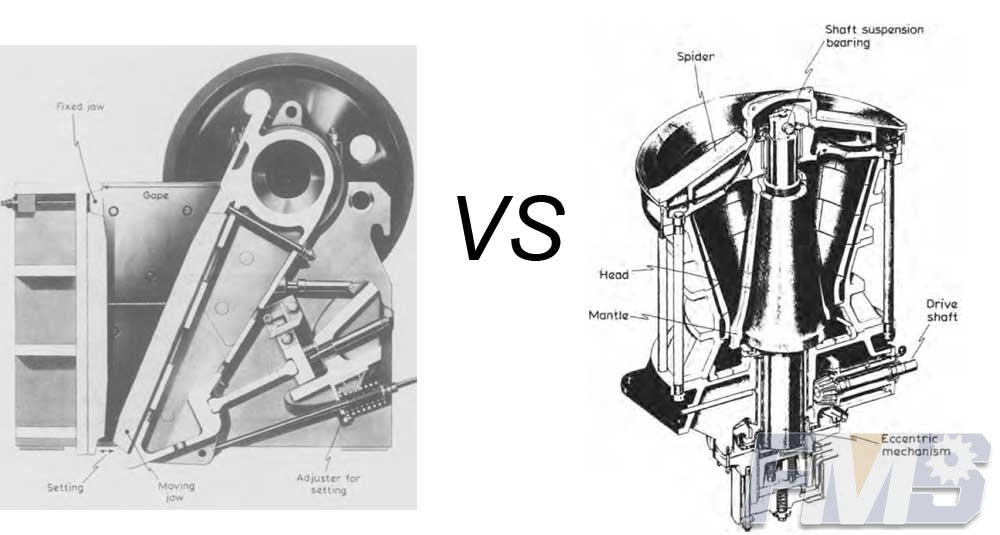 The crusher may then be fed directly by crawler excavators or wheeled front-end loaders obviating the need for dump-trucks. Systems using dump trucks over short-haul distances and fixed crushers within the pit are also employed. The crushed material is then transported from the quarry to the processing plant by belt conveyor (see w Jaw and gyratory crushers are both capable of handling hard, abrasive rocks and selection is based upon throughput and maximum lump size. Although developments are continuously taking place, impactors are restricted to less abrasive rocks e.g. limestone, but lump sizes in excess of 1 m and capacities up to 1500 tph are attainable.
The selection of the primary crusher is not an isolated decision but must consider the blast design, excavator bucket size and dump truck selection. Larger throughputs usually dictate the handling of larger lump sizes but this is only effective if each piece of equipment is fully utilized. A compromise or optimum design of operations must be achieved comparing costs of drilling and blasting to reduce lump size with capital and operating costs of handling and processing larger lumps. For a given capital investment, the jaw crusher will be able to accept the largest lump size and for throughputs less than 1000 tph a choice exists between the three types. For capacities significantly above 1000tph it is likely that the gyratory crusher will be selected upon this criterion alone.
Tagged: Primary Crusher SelectionPrimary Crushing Equipment SelectionPrimary Crushing Machine
Get Detail Information:
(If you do not want to contact to our online customer service, please fill out the following form, Our client manager will contact you later. We will strictly protect your privacy.)