Who is Formats Construction Machinery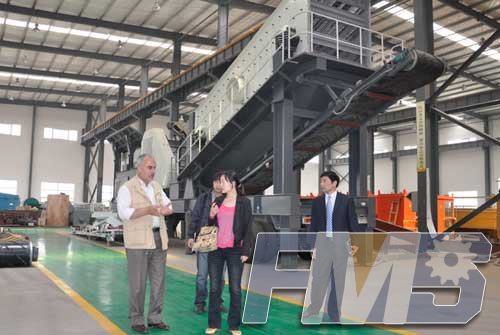 Customers visit our production workshop
Formats Construction Machinery Co., Ltd. is a 100% manufacturer of crusher & mill and related products. It was founded in 1988 with the 20 years of experience in manufacturing crusher and mill , our main products are: jaw crusher, impact crusher, cone crusher, mobile crushing plant, hammer mill, ball mill, vertical mill, etc..
In 2004 Formats Construction Machinery Co., Ltd. entered into the international market, exports to the United States, Canada, Russia, Mexico, Sudan, South Africa, Indonesia, India, Iraq, Saudi Arabia, Chile, Brazil, Argentina and other countries around the world. The crushing and mill our product in the production quality is excellent, the price is right, received the overall customer affection. Formats Construction Machinery Co., Ltd. are committed to creating value for customers. We have a comprehensive pre-sale and post-sale service.
Formats, using its long-term experience of crushing equipment and crushing processes, has developed an expert service offering aimed at improving the reliability and productivity of customer operations. Formats' certified customer service organization is available worldwide to add customer value through customer-specific solutions. Customer success and satisfaction are cornerstones of Formats services.
Our specialty is the design, manufacture and assembly of complete plants for small and large farms. For this feature We offer a wide range of products: feeders, jaw crushers, impact crushers and hammers crusher, screens and washing equipment. The company has an experienced technical staff in both office and in workshops that will endorse projects when undertaking comprehensive "turnkey".
Whether you need a single crusher, a multistage process or a complete plant, we assist you with the right design for the most cost-effective crushing process. We are the world's leading supplier of both unit machines and complete aggregates processing systems.
Our Quality, Service
Quality: Quality is the bedrock of our business. We demand of ourselves more than what our customers and partners expect from us. We make no compromise when it comes to your safety and to the profitability of your business. We manufacture equipment that we proudly stand by because of Formats's durability, efficiency, ease of use, and productivity.
Service: Your satisfaction is our main concern. Our well educated, experienced engineers and our highly motivated sales team will spare no effort in enhancing your experience with us. The construction and mining environment is tough, and from the planning of a complete crushing and screening plant to bringing you the spare parts you want, and everything in between, Formats will provide you with the service you desire.
Contact Us
Formats Construction Machinery Co.,Ltd.

Email:[email protected]

Tel: 0086-371-67992899

Dirección: No.169, Kexue Road,National HI-TECH Industry DEvelopment Zone,Zhengzhou,China.
Get Detail Information:
(If you do not want to contact to our online customer service, please fill out the following form, Our client manager will contact you later. We will strictly protect your privacy.)