The PFW series impact crusher is also called European type impact crusher. In this series of impact crusher, the rotor has been redesigned to increase the swing weight, reduce wear and Increasel capacity. They are producing large amounts of fines and small minerals due to their high circumferential rotor speed. Especially are accepting the material thicker than the other machines in secondary crushing applications,because of this characteristic, the PFW impact crusher is the first choice for secondary crushing . It is proved that the final products of PFW impact crusher are cubic shape, so it's have a unique advantage compared to cone and hammer crusher.
This kind of impact crusher is usually used for coarse, medium and fine for brittle materials below medium hardness, such as limestone, coal, calcium carbide, quartz, dolomite, iron ore, sulfur, gypsum and materials chemical raw.
The Working Animation of jaw crusher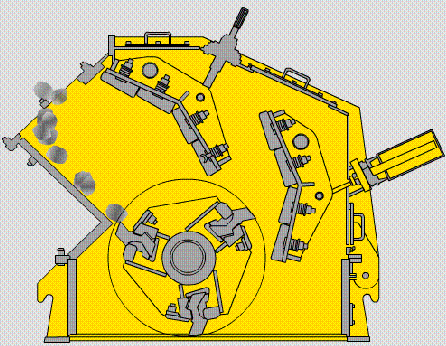 When materials fall within the scope of the hammer, this is impacted by the hammers and released towards the impact plates and milled. The material rebounding from the impact plate is struck by the hammer again and again thrown against the impact plates. This process will last until the material meets the requirement and falls from the machine. Adjusting the distance between the frame and the impact of the rotor frame can change the shape and size of the output. When foreign material enters the machine, the impact structure is running backwards and the material falls out of the machine. This device can prevent machine damage and losses.
Tag: Stone CrusherImpact Crushing EquipmentSecondary Crushing PlantImpact Crusher Machine
If you have any questions, please do not hesitate to contact us. Our online customer service to provide you with 7x24 hours of service.
Get Detail Information:
(If you do not want to contact to our online customer service, please fill out the following form, Our client manager will contact you later. We will strictly protect your privacy.)
Crushing Plant accroding Capacity