Cone Crusher is also called Symons Crusher, is a modified rotary crusher. The cone crusher adopts the principle of static pressure. High compression ratio Cone Crusher and save time stable work greatly. The brand Formats CS Series cone crusher is ideal for use as the secondary in a wide range of crushing and screening plants.
Cone crusher is a machine that will set after the impact crushers or other crushers. They are used for smaller products than those generated by the primary crushers.
Animation of cone crusher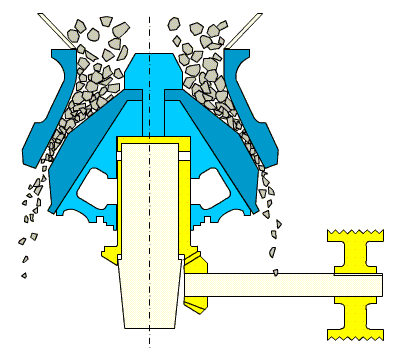 Operation, Installation and Maintenance of CS Series Cone Crusher
Lifting hooks the machine.
Both stairways and hallways as other areas of movement of suffi ciently be established separate from the risk areas for possible non-incidental contact and entrapment.
When necessary, will enable a space under the shelter for easy cleaning of spills, etc.., Provided they do not allow access to the dangerous parts of the machine.
The platforms are arranged so that you can access for servicing and monitoring without having to ride the machine. Safe access should be provided to all the places that need adjustment, servicing or sampling. All platforms should be suffi ciently robust to withstand falling rocks or material accumulation.
The moving parts of machinery must be protected and be also easily removable and replaceable.
Mechanical devices must be properly designed to fi n to allow operations and maintenance of machinery are made under secure procedures.
Tag: Stone Crusher MachineCrusher Machine for AggregateRock Cone Crushing PlantCone Crusher CS
If you have any questions, please do not hesitate to contact us. Our online customer service to provide you with 7x24 hours of service.
Get Detail Information:
(If you do not want to contact to our online customer service, please fill out the following form, Our client manager will contact you later. We will strictly protect your privacy.)
Crushing Plant accroding Capacity