What is Closed Circuit Crushing?
Question: What is Closed Circuit Crushing?
Reply: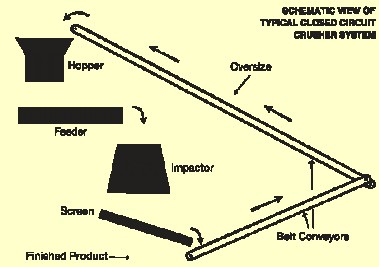 Closed-circuit crushing is a means of controlling product top size by screening the product and then returning oversize material to the feed end of the crusher for another pass through the machine. While it may be possible to obtain a specified top size from crushers without using a closed-circuit system, it is not always desirable. T o control top size from a single crusher operating in an open circuit, material must remain in the crushing chamber until it is reduced. This results in over grinding a percentage of the product with a corresponding increase i n fines and a loss of efficiency .
In a typical multiple-stage crushing plant with the last stage operated in closed-circuit, the primary crusher operates at a setting which produces a satisfactory feed size for the secondary crusher, so that a balance exists for the work done by each crusher.
Previous: Looking for Grinding Media for Limestone
Next: What is a Single Toggle Jaw Crusher?
Tags: Closed Circuit Crushing
Have any doubts, fill out the form below, We respond you quickly