What is a Single Toggle Jaw Crusher?
Question: What is a Single Toggle Jaw Crusher?
Reply: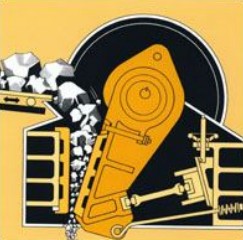 Single toggle is a type of jaw crusher where the moveable crushing member is hung from an eccentric shaft the lower end being held in position by one toggle plate. The rear end of the toggle rests in a groove on the rigid back of the frame and the other end in the similar groove on the back of the swing jaw. The motion is the result of the circular action of the eccentric shaft at the top of the swing jaw combined with the rocker action of the toggle plate at the bottom of the jaw. When the swing jaw rises it is opening at the top in the first half of the stroke and closing during the second half. The bottom ofthe jaw is closing during the whole up stroke. Opposite motion of the swing jaw takes place during the down stroke.
Previous: What is Closed Circuit Crushing?
Next: What is a Mobile or Semi-Mobile Crushing Plants?
Tags: Single Toggle Jaw CrusherJaw Crusher
Have any doubts, fill out the form below, We respond you quickly