Vertical Shaft Crusher Series PCL also called Sand Making Machine , its main objective is to manufacture artificial sand. Vertical Shaft Crusher PCL is used for grinding materials of all hardness. It is widely used in crushing minerals, bauxite, cement, refractory materials, glass materials, emery, the construction sand, rocks and slag metallurgy, especially for silicon carbide, emery, bauxite, Mass and other materials of high hardness and abrasion. This machine is more efficient than other crushing machines. The PCL Crusher was designed by experts Formats based on experiences of many years and the excellent foreign technology. This machine is high energy but low consumption, with the average size of thoughtful amenities and fine crushing.
This type of crusher offers increased capacity for a given engine size, easier maintenance and lower operating costs. The vertical axis crusher PCL is designed for easy installation. The assembly, installation and commissioning can be achieved over a period of 1-2 days by two people.
Structure of PCL Vertical Shaft Crusher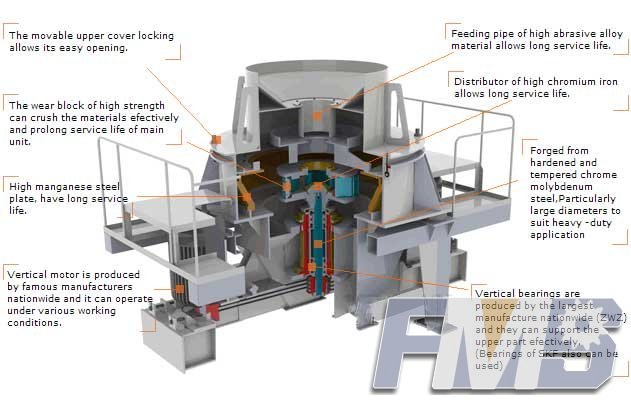 Application of PCL Series Vertical Shaft Crusher
Aggregates and sand
The quarry industry has been the traditional location of PCL . The vertical axis crusher PCL particularly optimal results in the production of foundation layers for roads, asphalt and concrete aggregate, sand and manufactured.
Mining
In mining, with its high capacity to generate fine products such as feed mill feed material for sintering and heap leaching, the vertical axis Crusher PCL is an ideal machine to replace the crushing and grinding equipment inefficient and costly.
Tag: Vertical Shaft CrusherShaft Stone CrusherSand Crushing MachineVertical Stone Crusher
If you have any questions, please do not hesitate to contact us. Our online customer service to provide you with 7x24 hours of service.
Get Detail Information:
(If you do not want to contact to our online customer service, please fill out the following form, Our client manager will contact you later. We will strictly protect your privacy.)
Crushing Plant accroding Capacity