The PEW series jaw crusher of Formats is also called European type jaw crusher. This kind of jaw crusher is widely used in mining and recycling, quarrying and materials processing. It is suitable for primary and secondary crushing with low power consumption and easy to maintenance.
Formats is a global leader in the field of production machines processing rock and minerals , which has provided tens of thousands of crushers around the world since the late 20th century. Nowadays, the PEW series jaw crusher in European style undoubtedly becomes the most welcome products in the world. When you want to efficiently crush hard materials, the best option for you is the PEW jaw crusher, which adopts the most advanced international crushing technology and world-class skills in making.
The PEW jaw crusher is mainly used for primary and fine crushing of medium hard ores and rocks in metallurgy, mining, chemical, cement, construction, refractories and ceramics and other industrial sectors.It's suitable for crushing rock, slag, etc. least 280Mpa, the maximum size for crushing must not be greater than that required by the technical parameters.
Structure of PEW Jaw Crusher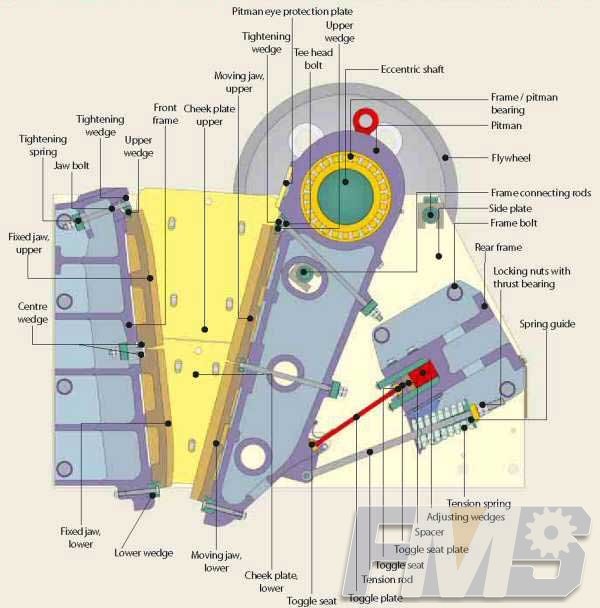 Features and benefits of PEW series Jaw Crusher
The Crushing chamber adopts the structure symmetrical "V" so that the real width of the supply port is equal to the width of the feed opening.
Lately tool plate is adopted to increase the effective length of the jaw, and higher performance.
The adjustment of the discharge opening more rapidly and conveniently.
Using technology to manufacture world-class selection of higher-end materials.
The crushing equipment can be divided into three parts, Conducive to transfer. At the time of installation, you will find in our models simple, resulting in a quick and easy installation, without major complications. on site, Our engineers will help you install and debug machine.
Tag: Jaw Stone Crusher
If you have any questions, please do not hesitate to contact us. Our online customer service to provide you with 7x24 hours of service.
Get Detail Information:
(If you do not want to contact to our online customer service, please fill out the following form, Our client manager will contact you later. We will strictly protect your privacy.)
Crushing Plant accroding Capacity