The hammer crusher is suitable for semi-hard and erosive materials lightweight, the strength of the pressure resistance is not greater than 150MPa and less than 15% moisture, such as coal, salts, chalk, gypsum blocks, limestone, etc.
The hammer crusher is a kind of crushing machine, which is made ​​of a frame, rotors, grate bar, impact plate, and adjustment device. Our hammer crusher can be used to crush various materials, such as limestone, coal, gypsum, alum, bricks, tiles, etc.. The compressive strength of the material should not be more than 150 MPa. It is widely used in the cement industry, coal separation process, power generation, construction industry, and other fields.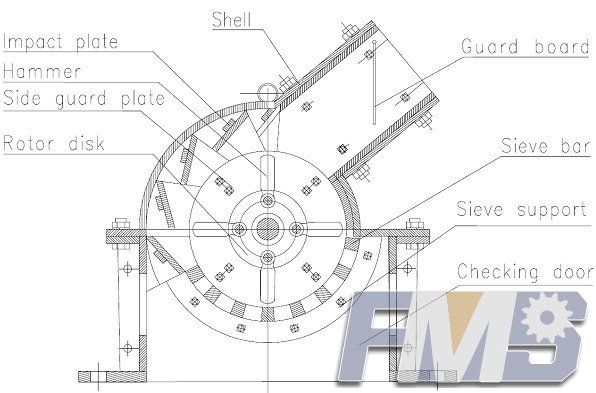 Structure of hammer crusher
Application of Hammer Crusher
This kind of crusher also can be used for crushing chips and paper with fiber structure and strong elasticity and ductility, or recycling asbestos fiber by crushing wastes of asbestos cement, etc.
It is applicable for both dry and wet grinding. Hammer crusher is widely used for crushing medium or high for medium hard and brittle materials by departments of mine, cement, coal, building materials, metallurgy, chemical industry, road construction, chemical, gas and thermal power generation, etc. coal gangue, coke, slag, limestone, phosphate rock, salt, whiting, gypsum stains, alum, brick and tile, etc. can be crushed by this equipment. The compressive strength of the material not exceeding 150MPa, whereas the moisture content must be below 15%.
Tag: Hammer CrusherHammer Milling CrusherHammer Crushing MachineHammer Crusher Price
If you have any questions, please do not hesitate to contact us. Our online customer service to provide you with 7x24 hours of service.
Get Detail Information:
(If you do not want to contact to our online customer service, please fill out the following form, Our client manager will contact you later. We will strictly protect your privacy.)
Crushing Plant accroding Capacity