Stationary Crushing Plant for Chippings
Primary crushing is achieved by means of a PE jaw crusher, fed from a vibrating primary screen separating at 75mm. Minus 75mm that passes through the vibrating primary grizzly feeder is screened at 28mm or 40mm depending on conditions, with the undersize producing scalpings. The oversize product is combined with the primary crushed material and fed directly to the primary stockpile. Generally, this produces a –200mm feed which is fed directly into the secondary crusher from this stockpile.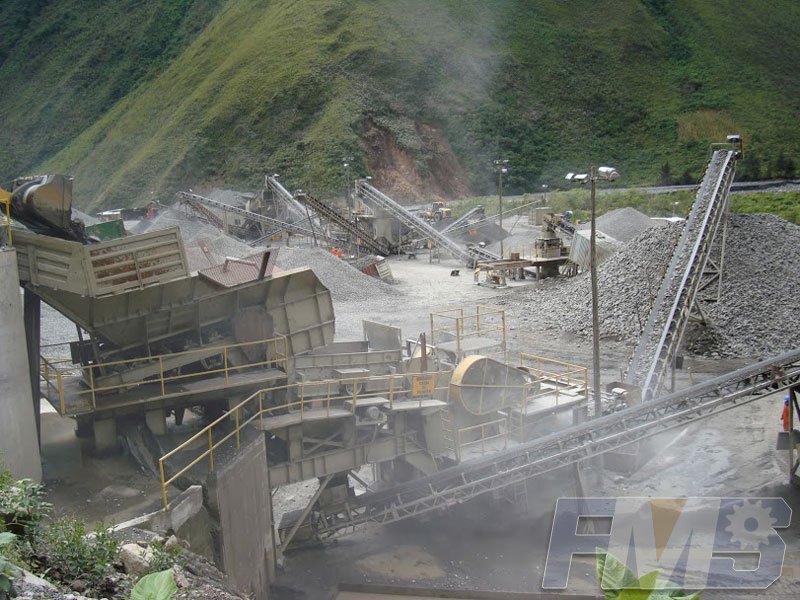 he secondary crusher comprises a standard cone crusher, operating at a nominal capacity of 325 tonnes/h with a close-side setting of 60mm. The secondary product is fed, via a short conveyor, directly into the tertiary crusher — a short-head machine with an appropriate chamber. Historically, the capacity of the tertiary crusher has been sufficient to provide a feed to quaternary crushers 1 and 2 and a 36in cone crusher . However, it has been recognized that, as and when the capacity of the plant is increased, the tertiary crusher will become a bottleneck, as the capacity of this machine is restricted to around 220 tonnes/h.
Crushed product from the tertiary crusher is conveyed to a selector screen that bypasses –6mm material direct to the final screens, with the oversize material being fed into a storage bin above the quaternary crushers. This material is then choke fed to the quaternaries via individual chutes with clamshell doors.
Tags: Stationary Crushing Plant for ChippingsFixed Plant for Crushing ChippingsChippings Crusher for Sale
Get Detail Information:
(If you do not want to contact to our online customer service, please fill out the following form, Our client manager will contact you later. We will strictly protect your privacy.)