Installation of Roller Press
The roller press can be installed in various configurations.
In combination with tube mill
Roller press as pregrinding unit
Roller press as pregrinding unit with slab recirculation
Two stage grinding system (semi-finish)
Finish grinding system
The roller press is in closed circuit with a desagglomerator and a separator
The detailed description with advantages and disadvantages is given in the paper VA 93/4014/E, Cement grinding systems.
The following diagram Roller Press in cement grinding circuit.
Fresh clinker is diverted from the mill feed belt to a bucket elevator and transported to a 25 ton surge bin ahead of the roller press. A magnetic separator and metal detector located on the belt conveyor before the bin protect the roller press from tramp metal, with the latter triggering a diverter gate to momentarily send the contaminated material directly to the mill. The total feed to the roller press is regulated by a weigh feeder below the bin, with several controlling operational modes available. It is normally desired to operate in the "starve mode", in which the feeder rate is optimized to provide maximum average roller press power or roller gap without a head of material above the rollers.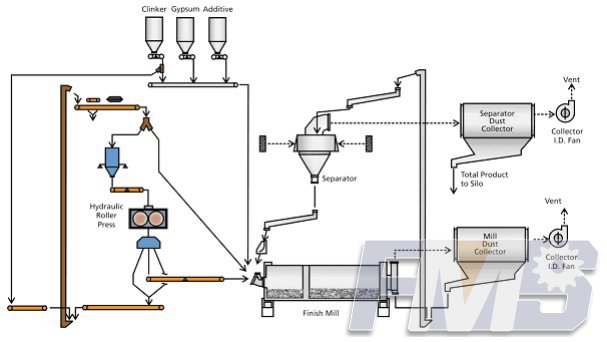 Fresh clinker is deposited on the existing mill feed belt modified to run in reverse direction. A new belt adjacent to the original one sends the gypsum and limestone directly to the mill. Even though the option exists to pass the additives through the roller press system, this is not in practice at Bisha. Similar to circuit #1, the fresh clinker and recirculated press product combine and are transported in a single bucket elevator before the roller press. A magnetic separator and metal detector are also available to protect the roller press from foreign objects. The combined material is then fed to a new separator which is a combination static and dynamic rotor separator. Large material drops through the static portion to a small feed bin above the roller press. Airflow passing through the separator carries entrained material through the rotor. Rejects from the rotor are sent to the ball mill, while material of product size is collected in a bank of cyclones. The system fan of the combination separator is positioned after the cyclones and therefore operates in partially dustladen air. A majority of the air is recycled back to the separator. The product from the cyclones and separator filter are conveyed and ultimately combined with the rest of the product from the existing separator filter. A proportioning gate controls the passing of material from the feed bin through the roller press. The entire product from the roller press combines with the fresh clinker feed.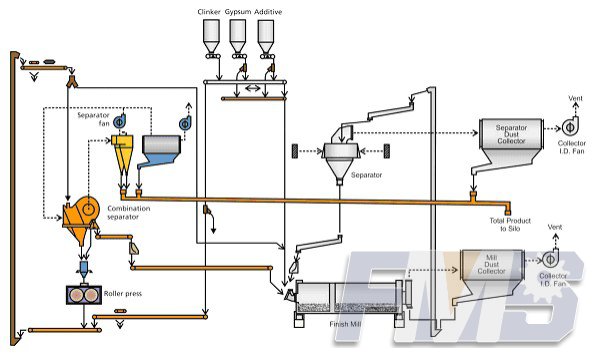 Tagged: Installation of Roller Grinding MillsRoller Press Milling MachineRoller Press
Get Detail Information:
(If you do not want to contact to our online customer service, please fill out the following form, Our client manager will contact you later. We will strictly protect your privacy.)