Mobile Crusher Plant Mounted on the Crawler Brand Formats for Sale
With their lower capital and operating costs, locational flexibility and elimination of the need for haulers and haul roads, mobile crushing plants offer an attractive alternative to the traditional stationary crusher and dumptruck system. The reduction in manpower, fuel usage and pollution is mirrored by an increase in health and safety. Offering higher productivity and low-cost-per-tonne production, truly mobile tracked crushing plants are destined to become an even more common sight in quarries and mines around the world in the years to come.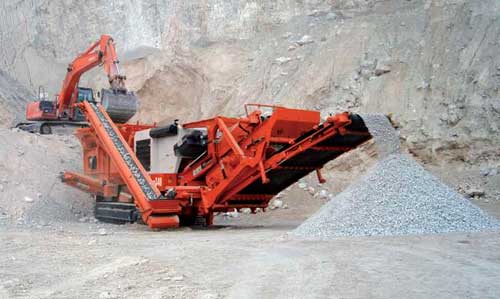 A mobile crusher uses the same range of crushing techniques as stationary models to break stone blocks into smaller pieces of a desired size. It can be mounted on a wheeled trailer or be self-propelled on caterpillar treads. Its autonomy is assured by incorporation of a hopper and conveyor to supply material to the machine as well as a second conveyor to remove finished product. It also may have sieves mounted upstream or downstream of the crusher for better control of input or output size. Mobile crushing equipment can not only replace stationary systems – it can also eliminate the use of dumptrucks and reduce staffing.
Formats Construction Machinery Co., Ltd., specialists in contract crushing and screening, have been in business for a number of years manufacturing crushers, screens and mills for operations across all around the world. Formats Offer Two type of mobile crusher, mounted on the Crawler and on the Tire.
The YG938 FW1214ⅡL is a large heavy-duty tracked crusher incorporating an impact crusher that combines the revolutionary mobility, power and design of Formats crushers, with with world renowned impact crushing performance. With productivity at its core, the YG938 FW1214ⅡL is the ideal machine for demolition contractors, quarry operators and recycling operations that require a very high throughput machine, capable of producing a high quality end product.
PRINT
GET PRICE
Previous: Wobbler feeding Machine for Sale
Next: Formats launched a new Mobile Jaw Crusher YG935E69L
Tags: Mobile Crusher PlantMobile Crusher on the CrawlerFormats Mobile Crusher
Get Detail Information:
(If you do not want to contact to our online customer service, please fill out the following form, Our client manager will contact you later. We will strictly protect your privacy.)