Stone Crusher in Tajikistan
Layout of equipments: GZD1100×4200 vibrating feeder, PE750×1060 jaw crusher, CSB160 cone crusher, VSI9526 (VSI vertical impact crusher), 2L915 double spiral sand washer, 2YZS1548, 3YZS1860 vibrating screens, belt conveyors and electrical control.
Location of customers: Tajikistan.
Material: granite.
Input Size: 750mm.
Output sizes: 0-5mm, 5-10mm, 20-30mm.
Capacity: 200t/h.
Introduction of tertiary Crusher in this crusher plant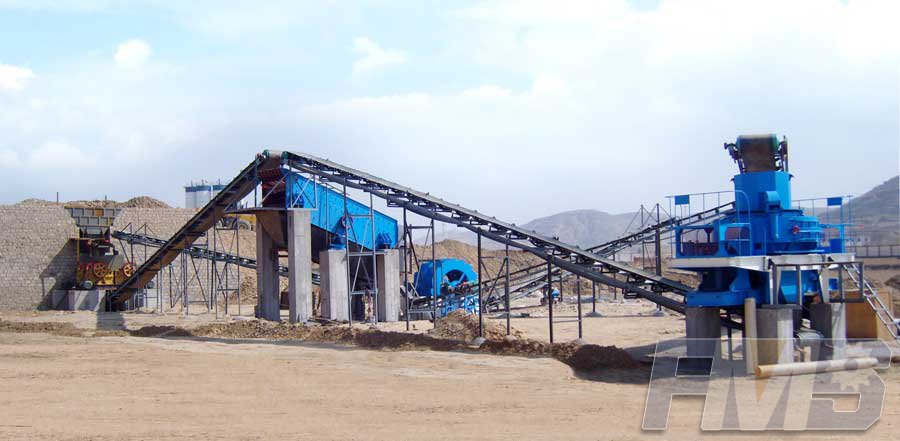 VSI sand making machine is specially designed for highway, high-speed railway, high-rise building, municipal administration, hydroelectric dam construction, concrete mixing station to provide high quality sand aggregate, which is the preferred sand making equipment in the field of artificial sand and stone shaping.
High quality materials and advanced technology is used, which improve the quality of equipment and appearance quality and ensure the low failure rate. The best material impact angle crushing chamber design reduces wear and operation cost and makes the capacity increased by 30%.
With unique feed crusher structure and a variety of crushing chamber, this machine can realize "crushing between materials" and "crushing between materials and liners" changes easily, which makes the size and the shape of the finished product is excellent, reasonable gradation and fineness modulus is adjustable. The sand making machine is suitable for the application of artificial sand and stone shaping, etc.
Hydraulic open device makes it easy to repair and maintain, can save time and effort. Vibration display and alarm device, can automatically detect, which makes it safe and reliable. Thin oil lubrication station and two complementary oil pumps ensure that the bearing lubrication is always in the best condition, which makes the life time increased.
Unique design of air circulation system greatly reduce the outside exhaust volume, little dust, small noise, it is good for environmental protection, and it can be configured a variety of specifications of the dust removal equipment, strengthen environmental protection.
Tagged: Stone Crusher @TajikistanStone Crushing Plant 200 TPH
Get Detail Information:
(If you do not want to contact to our online customer service, please fill out the following form, Our client manager will contact you later. We will strictly protect your privacy.)