Iron Ore Comminution Plant
The term comminution is used to describe a collection of physical processes that can be applied to a stream of ore to reduce the sizes of the particles in the stream. Many different types of processes are used, including breaking particles into smaller particles by crushers and grinding mills and separating particles into streams of different sizes by screens and classication devices. The purpose of comminution is to transform raw ore into a more usable or more saleable product or to prepare it for further processing. A comminution circuit consists of a collection of processing units connected together (typically by conveyor belts). Comminution circuits may contain loops, typically re-cycling large particles through crushers until they reach the desired size. One or more streams of ore form the feed stream, entering the circuit typically from some preprocessing stage. One or more streams of transformed material exit the circuit as the product stream of the comminution process.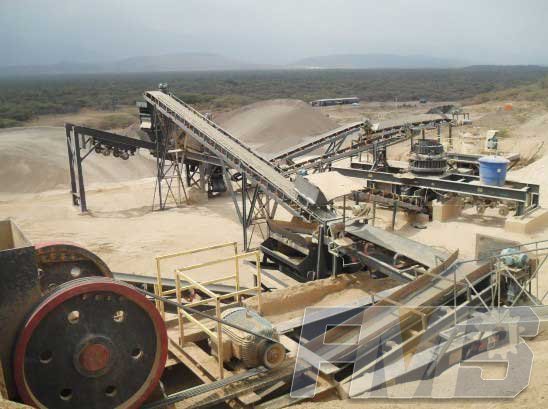 Iron Ore Comminution Plant
The feed stream is the result of a primary crusing stage, entering the circuit at a xed rate on a conveyor from the top left of the gure. The feed is passed over a scalping screen that allows particles less than the aperture of the screen (the undersize particles) to pass through. Oversize particles greater than the aperture of the screen (and due to the imperfect nature of a screen, some smaller particles) are directed to a secondary crusher. The crushed ore from the secondary crusher is then rejoined with the undersize ore stream before being passed to the product screen. The product screen lters particles less than a given size into a product stockpile, re-directing all oversize particles to a tertiary crusher. The tertiary crusher further crushes the ore, sending the output back to the product screen. The product stockpile is the output from the circuit.
Cone Crusher HP Best choice for Comminution Ore
Cone Crusher HP of Formats is the best choice for comminution ore in circuit. A cone crusher HP has two parts: an inner rotating crushing surface revolving in an eccentric motion around the central axis of the crusher, and an outer xed crushing surface. Material is introduced into the crusher from above and is crushed as it ows downwards through the machine due to compression of the inner rotating crushing surface against the outer crushing surface. The gap between the inner rotating crushing surface and the outer xed crushing surface at the closest point in the cycle is called the closed-side setting of the crusher . This setting can be reduced to obtain a narrower chamber and ner crushing, or increased to obtain a wider chamber and coarser crushing.
Tags: Iron Ore Comminution MachineComminution Machine for Sale
Get Detail Information:
(If you do not want to contact to our online customer service, please fill out the following form, Our client manager will contact you later. We will strictly protect your privacy.)