Cone Crusher HP for Tertiary Crushing and Cubicising
Due to their design, Cone crushers HP Formats are generally a more expensive investment than impactors are. However, when correctly used, a cone crusher offers lower operating costs than a conventional impact crusher. Therefore, clients crushing hard or abrasive materials are advised to install cone crushers for the i nal crushing and cubicising stage. Cone crushers can in most cases also give a good cubic shape to fine grades. Cone crushers can be adapted to different applications. This is an important factor, as client-specific needs often change during a crusher's lifetime.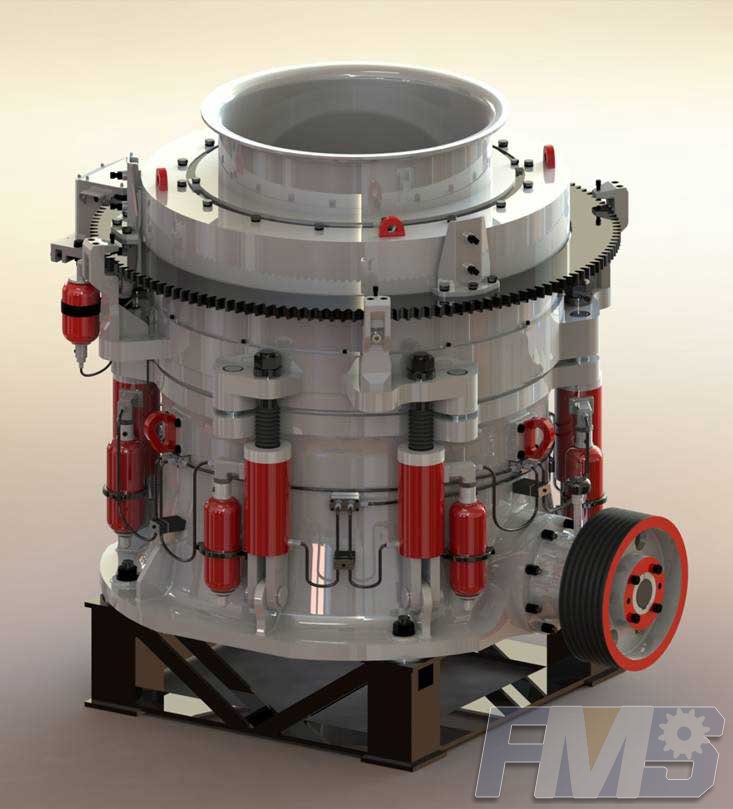 For cone crushers there are few rules to be followed of optimum cubical shape. These "Ten Golden Rules"are:
Full crushing chamber. This means that cone head must be covered by rock.
Stable and continuos feed.
Material below setting in the feed 10-30% (but no filler and fines 0-4 mm normally).
Maximum feed size. Reduction ratio must be limited to 3 (-4). Recommended max feed size is 50 mm.
Correct feed distribution. Feed distribution should be non segregated and evenly distributed around crushing cavity
Setting closer to required product
Correct choke point. This means the right selection of cavities for feed in question.
Crusher itself. New generation cones will produce considerably better shape than so called old generation. This is due to improved crusher kinematics and shape of cavity.
Closed circuit. This improves shape by attrition, gives constant feed curve and recrushing of l aky product In secondary stages closed circuit calibrates feed to tertiaries.
Flow sheet in general. Important, especially in production of very high quality (shape) aggregate is that selective circuits are used, meaning that secondary and tertiary products are not mixed.
Tags: Tertiary Cone CrusherHP Cone CrusherCubicising Crusher
Get Detail Information:
(If you do not want to contact to our online customer service, please fill out the following form, Our client manager will contact you later. We will strictly protect your privacy.)