Vibrocone of Sandvik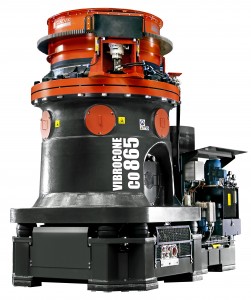 Vibrocone is a new type cone crusher of sandvik, Its advantage is to save energy, give a finer grind. Vibrocone has only one model CO865 which Rated power is 400 kW, Capacity 220-275 stph, Max Feed size 150 mm. Vibrocone's crushing capacity and product size are determined by three factors: the rotational speed, the hydraulically adjustable discharge opening and the unbalanced weight setting.
Vibrocone open the possibility for new eco-efficient crushing alternatives. In existing crushing circuits with rod and/or ball milling stages, it can replace the rod mills or act as pre-grinding units for the ball mills. It's a great benefit that you can at any time easily start and stop the machine with material in it, The closed- and open-side settings are determined by the fully controlled crushing force every fraction of a second, It adapts to the compressed material bed in the crushing zone.
Tagged: Stone Crusher SandvikVibrocone of SandvikCone Crusher Sandvik
Get Detail Information:
(If you do not want to contact to our online customer service, please fill out the following form, Our client manager will contact you later. We will strictly protect your privacy.)