Jaw Crusher and Its Types
Jaw crushers are mainly used as primary crushers. Their main purpose is to produce material that can be transported by belt conveyors to the next crushing stages.
The crushing process takes place between a i xed and a moving jaw. The moving jaw dies are mounted on a pitman that has a reciprocating motion. The jaw dies must be replaced regularly due to wear.
There are two basic types of jaw crushers: single toggle and double toggle.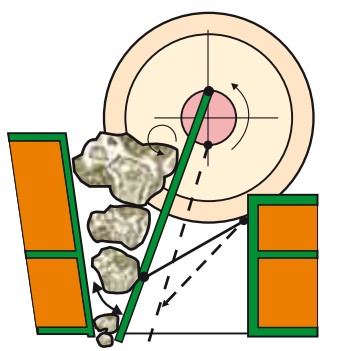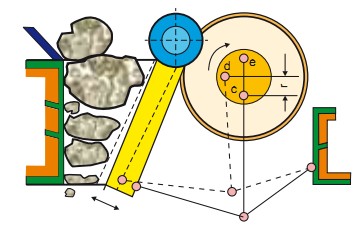 In the single toggle jaw crusher, an eccentric shaft is on the top of the crusher. Shaft rotation causes, along with the toggle plate, a compressive action. A double toggle crusher has, basically, two shafts and two toggle plates. The i rst shaft is a pivoting shaft on the top of the crusher, while the other is an eccentric shaft that drives both toggle plates. The moving jaw has a pure reciprocating motion toward the fixed jaw.
The chewing movement, which causes compression at both material intake and discharge, gives the single toggle jaw better capacity, compared to a double toggle jaw of similar size. The jaw crusher is reliable and robust equipment, and therefore quite popular in primary crushing plants.
Tagged: Jaw CrusherDouble Toggle CrusherSingle Toggle CrusherJaw Crushers Types
Get Detail Information:
(If you do not want to contact to our online customer service, please fill out the following form, Our client manager will contact you later. We will strictly protect your privacy.)