Crushing Technology for manufactured sand
In the production of manufactured sand, we have the ability to alter the particle size distribution by screening. The other important property of a manufactured sand is the shape of the particles. That of course is influenced by the crushing technology chosen to reduce the feed to the desired size.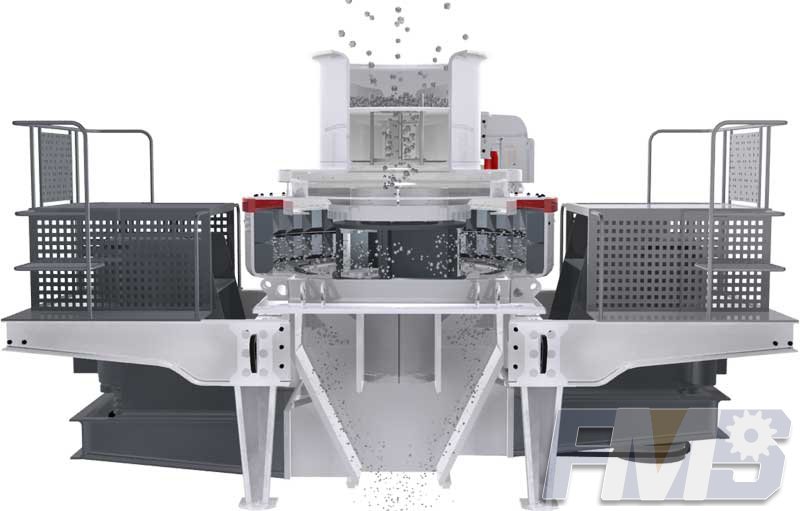 It is generally accepted by crushing equipment manufacturers, plant designers and operators, that certain "rules" apply, with respect to the production of equidimensional or non-flaky or non-elongated particles, as shown in figure 2. As most crushers employ some form of compression technology, these crushers are not able to produce a good particle shape in the critical 2.36mm - 300 micron size range. The reason for this being that as per the above particle shape study, the closed side setting of a crusher is not going to be set at two millimetres, the size at which particle shape has the most impact. The crusher fines from a compression crusher are usually of a poor particle shape, giving a very high specific surface, and therefore are not suitable for economical concrete.
However, as per the statement regarding Vertical Shaft Impact Crusher making the best particle shape, there is no closed side setting used in the crushing process. The aggregate feed is reduced by impact and abrasion, in a similar fashion to the forces of nature.
Because the voids content of narrow size fractions of materials tells us so much about the individual particle shape and specific surface, we have analysed a VSI 5X installation where a flaky and elongated 40 - 20mm is used as the feed material. The voids content of each sieved size fraction has been determined to ascertain where particle shape deteriorates. As stated by Kojovic (figure 2, overpage), particle shape gets less equidiinensional the further away the particle size gets from the crusher setting. As the VSI 5X has no such setting mechanisms,particle shape remains cubical or equidimensional throughout the entire gradation.
Also, as the VSI 5X has no wear parts that are directly used in the crushing process, gradation does not alter with wear. This is an extremely important feature for a concrete producer - especially in the sand fraction of a concrete mix.
Tagged: Manufactured Sand CrusherManufactured Sand Crushing PlantGravel Crusher
Get Detail Information:
(If you do not want to contact to our online customer service, please fill out the following form, Our client manager will contact you later. We will strictly protect your privacy.)