Roller Press Cement Grinding Machine
The roller press is a relatively new development in the cement manufacturing process. This efficient comminution machine is applied mainly for clinker but is also used for raw material and slag. The size reduction of the material takes place under high pressure between two rotating rollers.
The press can be installed in combination with a tube mill (new installation or expansion of an existing mill) or as a finish grinding system.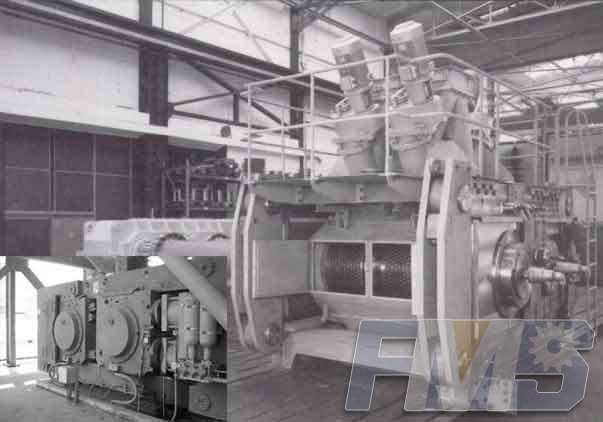 Working Principle of Roller Press
Bulk material is fed to the gap between two rollers which are driven in counter-rotation. The necessary press force is created by a hydraulic-pneumatic system which works like a spring.
Feed
It is distinguished between choke feed and starved feed.
Choke feed: A column of material lays over the rollers. In this case, in order to assure smooth operation, it is very important that the material is deareated before it enters the gap. The choke feed is the common solution.
Starved feed: The feed is dosed into the gap (no material column). The advantage is that the air can easily escape, however, this solution requires a very accurate dosing equipment.
Pressing process (size reduction)
The compaction of the material with the density rostarts at the nip angle a. The maximum is achieved at the so called attack angle b(center of pressure) where the material reaches the slab density r G .
Between aand ban interparticle comminution takes place where each particle transmits the force imposed on it to another particle. Best results are achieved with materials of wide particle size distribution with a maximum filling of the voids. In the pressing process a simple size reduction takes place but also flaws and fissures within the particles are produced reaching into the micro range.
Product
The material leaves the press in form of slabs which normally have the gap thickness s. For further processing these slabs must often be desagglomerated.
Tagged: Cement Grinding MachineRoller Press Grinding MachineRoller Press Mill
Get Detail Information:
(If you do not want to contact to our online customer service, please fill out the following form, Our client manager will contact you later. We will strictly protect your privacy.)