Secondary Stage Crushing
Secondary stage crushing involves crushing the product to its required size, generally 15 to 35 mm, using two types of crushers, typically a Jaw and Cone crusher. Other combinations of crushers may be used also, for example gyratory as a primary or impact crusher as a secondary.
Secondary stage crushing employs a combination of both open and closed circuit crushing. The primary jaw crusher is usually configured in an open circuit arrangement and the secondary cone crusher is normally configured in a closed circuit arrangement.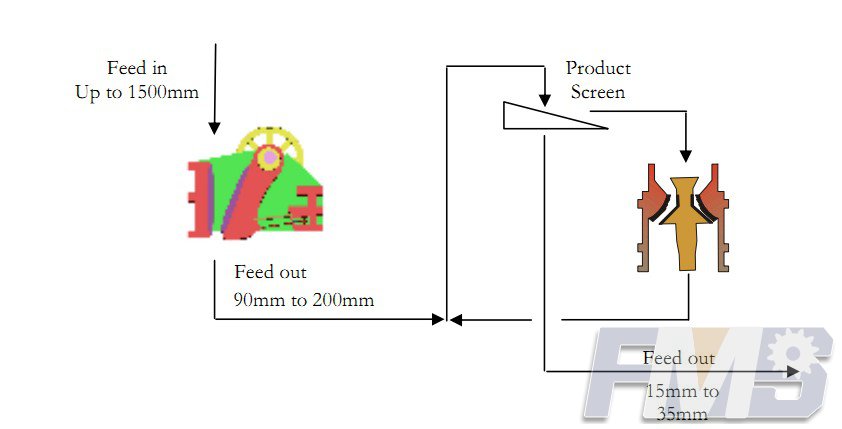 In a closed circuit, the products from both crushers are screened, with the oversize from the screen being conveyed to the cone crusher again. The screen mesh size and not the crusher CSS governs the size of the material leaving the circuit. In this circumstance, the cone crusher can be run with a larger gap, thus making use of rock-on-rock crushing within the crushing chamber.
Two-stage crushing is more often employed in the mineral processing industry to improve performance and capacity of SAG mill circuits. For fine crushing (eg. Preparing feed to either a Rod or Ball Mill), two-stage crushing is not common, and is really only suited for very soft ores. This is due to the fact that to achieve such a fine product requires the secondary cone crusher to be operating well above the normal and design reduction ratios.
Tagged: Secondary Stage CrushingSecondary Stage Stone Crushing Plant
Get Detail Information:
(If you do not want to contact to our online customer service, please fill out the following form, Our client manager will contact you later. We will strictly protect your privacy.)