Sand and Gravel Process Plant
Sand and Gravel is composed of unconsolidated rock fragments that have a general particle size range and include size classes from granule- to boulder-sized fragments. Gravel is an important commercial product, with a number of applications. Many roadways are surfaced with gravel, especially in rural areas where there is little traffic.
Figure below shows a schematic generalized flowsheet for a plant processing sand and gravel. The deposit is dug by dragline, front-end loader or back-hoe and the material loaded through a hopper onto a field conveyor system. At this point a grizzly screen will usually be employed to reject very large particles such as the 'erratics' or boulders encountered in glacial deposits. The conveyor feeds onto a surge or stock pile ahead of the plant. The material is reclaimed by wheeled loaders (small operation) or tunnel con- veyor and fed to a screen, often equipped with water sprays, where sand sized particles, probably less than 5 ram, are removed. In cases where the deposit contains large quantities of clays and silt the oversize passes into a washer barrel where any agglomerates are disintegrated. Log washers, monitors or simple mixing tanks or pits may be used to the same effect. The washed gravel, sand and silt and clays in slurry form are discharged onto a multi-deck screen and sized into the saleable product size ranges. The screen apertures are usually 40, 20, 10 and 5 ram. For material containing few agglomerates and very little silt and clays, for example marine dredged aggregates, the washer barrel may be omitted. The water sprays on the screen are, however, much more important and will supply fresh water to reduce the chloride content of the aggregate. The sized coarse aggregates are stored and drained in bins or heaps.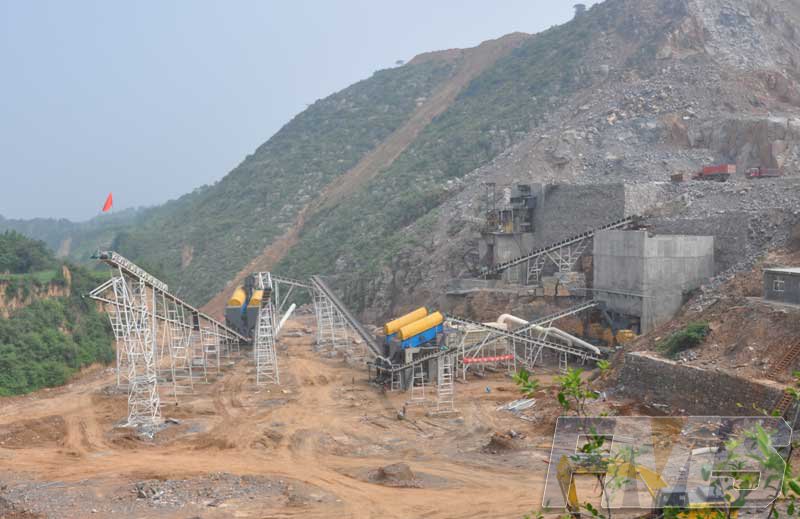 However, the demand for sand and for gravel in the size range 5 to 20 mm may exceed the natural produc- tion of these materials. Therefore, provision is often made for the crushing of coarser fractions, especially plus 40mm 'rejects', to increase the yield of these products. A cone crusher is depicted as most suitable to crush very coarse rejects into the desirable size range of concrete aggregates. A vertical shaft impactor and even the rod mill may be used to increase the yield of sand.
The minus 5 mm screen undersize, sand fraction, is processed according to the local markets and the particle size analysis of this material. In a simple case the silt is removed by a screw classifier which also partially dewaters the sand product. The sand is finally dewatered on a dewatering screen and drained in heaps. Alternatively, the sand is sized and classified into several saleable fractions. The flowsheet shows a 1 mm screen to remove a grit fraction followed by a hydrocyclone to reject the silt. The intermediate sand fraction is classified to produce a coarse sand and a fine sand. The coarse sand is dewatered by a dewater- ing screen and the fine sand by a hydrocyclone mounted in a tower above a drainage heap. The various sand fractions can be sold separately or blended to meet the requirements of, say, concrete sand, mortars, asphalt sand or filter media.
Tags: Sand and Gravel Process PlantSand and Gravel Crushing machinerySand and Gravel Crushing Machine
Get Detail Information:
(If you do not want to contact to our online customer service, please fill out the following form, Our client manager will contact you later. We will strictly protect your privacy.)