Rolls Crusher and Its Type
A simple rolls crusher comprises two contra-rotating smooth crushing rolls. The shaft of one roll is located by fixed bearings whilst the bearings for the second roll may be moved to alter the 'set' or gap between the rolls. It is usual for the sliding bearing blocks to act against compressed springs thus providing a means of overload release in the event that the feed contains uncrushable material. The reduction ratio of crushing rolls is limited to about 3:1.
Historically, before the development of cone crushers, their use was common but they suffer from two serious disadvantages: low capacity and wear of the roll surface when crushing abrasive rock. Wear of the roll surface may only be corrected by replacement, expensive surface grinding or metal deposition by welding and they are now largely obsolete in the UK although not uncommon elsewhere.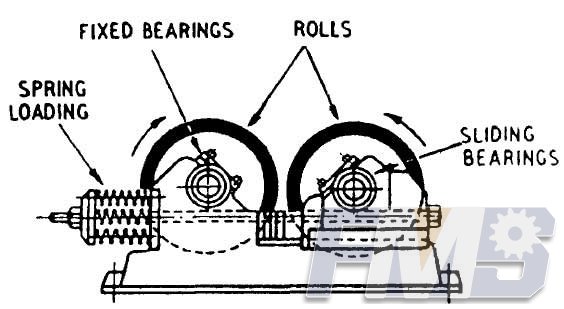 Section of a double rolls crusher
Nevertheless, the crusher may still find application within small capacity operations, in confined spaces e.g. underground, where the simple construction and low headroom requirement are advantages or processing very soft rocks such as high purity limestones usually quarried for chemical rather than construction industry use.
Recently, interest has been shown in a form of rolls crusher, the rotary pick. The two rolls rotate at moderate speed and are provided with hardened alloy steel teeth, alloy caps or even carbide tipped spikes-- the picks--which break the rock by a combination of compression, tension and shear. These machines are already used in underground mining of soft rocks e.g. coal and gypsum. Similar devices are employed in continuous surface-miners and road surface cold-planers. They are now finding application in surface mining of harder rocks such as limestones where the low headroom requirement and lack of need for substantial foundations are advantages. For example, the device may be used as an in-pit crusher or introduced at a conveyor transfer point to facilitate materials handling.
Get Detail Information:
(If you do not want to contact to our online customer service, please fill out the following form, Our client manager will contact you later. We will strictly protect your privacy.)